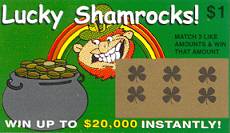 These real looking fake scratch off lottery tickets are a great April Fools gag, birthday prank or a dirty joke for the compulsive lottery player!
Our New full - color gag lottery tickets look and feel completely like the real scratch tickets you would buy at the lottery venders. When people scratch off the front of the ticket, they'll be shocked to see they've won $10,000, $20,000 or even $50,000. Every ticket is an automatic winner! People can't wait to tell their friends the good news...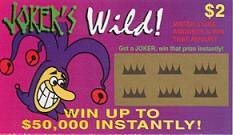 But when they read the fine print on the back, they'll know they've been duped by a dirty joke. Great way to fool friends, co-workers, or anyone who plays the lottery. Demand for these lottery tickets has been huge since we introduced them a while ago. Order a couple of these hilarious fake lottery tickets today. You will never forget the facial expression of the lucky person you give these fake winning tickets to! If you order a larger quantity, you'll get the 6 different assorted Fake Scratch Lottery tickets shown on this page! Order today and have a blast playing one of the funniest practical gambling joke today!!